If you are reading this and you are a student trying to figure their ground in the field of sports psychology in India, you will relate completely as you read further. Remember, greatness doesn't wait – and neither should you.
You must have probably been a part of many discussions and conversations centering around the recent scenario of sports psychology in India or Psychology in general. It could have started with a little hush hush at your home when you were trying to explain to your parents why you wish to pursue Psychology or what are its career prospects and got big clueless or amused faces? Yes, that is exactly the reaction one can anticipate when you bring up studying Psychology in India. Though beliefs have changed in the last couple of years with increasing awareness, however, the road to normalizing a career or degree in Psychology is a long one to trod.
Studying Psychology in India is surely like a bag of mixed emotions. You feel inspired, lost, hopeful…all at the same time. You must be wondering what trajectories other fields of Psychology take in India. Sports Psychology in India in particular is going to be the point of discussion here!
Basic understanding: What is Sports Psychology?
Until the 1960's, we saw a scarce application of science to the field of sports. However, the conception of the Indian Association of Sports Psychology in 1984 was the light at the end of the tunnel. Today, we do have an Association that is officially recognized and registered under the Registered Act of Society. In a nutshell, this organization works to advance Indian sports sciences including Sports Psychology from its roots and foster a competitive and high-performance culture.
If you have nothing but a little or vague idea about what is Sports Psychology and what all it entails, let's move forward to understand what it is in simple terms:
Sports Psychology is a subfield of psychology which applies the principles and techniques of psychology in a sport setting or ecosystem. It studies how psychological factors influence sports and athletic performance and utilizes exercise and athletics to enhance people's well-being. 
Sport psychology is indeed a discipline that integrates psychological skills and principles to tackle difficulties with respect to athletes' optimal efficiency and performance.
Sport psychology interventions are aimed at assisting athletes and others involved from diverse settings, level of competitiveness, and age group (most importantly it goes from young recreational players to elite Olympic level athletes). They also include working with trainers, administrators, family members, and others.
---
---
How does a student perceive the major challenges in sports psychology in India?
Lack of awareness and understanding of the role of a sports psychologist
Awareness is the first step in trying to raise a community, trying to reach out to the masses and generating basic understanding of what sports psychology is! Only once people know how it works can their interests find a direction and they can better answer if Sports Psychology is for them?
Lack of established academic course offerings and very limited seats
This is the grim reality! India is pretty much the land of sports and has produced some greatest sportspersons of all times. Yet, there is absence of flourishing academic courses and programmes in India. It's simple! We don't have enough sports psychologists in the country because we don't have enough students enrolled in these courses and even enough seats in the handful of colleges that have a master's level programme or diploma.
Increasing demand of Sports Psychologist
The problem is that there aren't sufficient openings for the position of sports psychologists in potential areas and organizations. Only after all these years, Indian teams across many sports like cricket, women's cricket team and hockey team finally hired Sports Psychologists. However, the realization came after a decade that sports psychology in India is an inevitably crucial part of any sport to meet the demands of high pressure, the high competition games and the highly functioning athletes.
It is to be noted that in a recent effort by Sports Authority of India (SAI), vacancy posts for almost 13 psychologists opened up. This move is highly appreciated and can prove to be a great push for creating opportunities.
Building Opportunities for early exposure of students to explore the field.
There is a lack of resources and opportunities for a student who probably got out of school and is exploring career options in psychology. They can barely think beyond clinical or counseling psychology and that is mostly because these are the fields in focus at all times in India. Be it in our textbooks in schools or news! There are plenty of subfields within psychology itself, one being Sports Psychology for students to delve deeper into.
Lack of Research that backs the applied nature of Sports Psychology in India
Students often turn to research to understand the nuances and nitty gritties of an Applied course like Sports Psychology which is so experiential in nature. Another grey area is that research in sports psychology in India is still in its very nascent stages despite there being a great scope for research. Now, what we lack is enough research carried out on Indian samples of athletes across all sports. To become a sports psychologist in India would naturally require one to work with the Indian population closely. Thus, it becomes important to understand the cultural markers and culture specific challenges.
Constant dilemma of pursuing a degree abroad
It is not new that Western countries have made swift advancements in Sport Sciences and specifically Sports Psychology. There are thriving, accredited and research-intensive courses on Sports Psychology and modern infrastructure and facilities. This leaves students in India in a tricky situation where they feel tempted to consider pursuing Sports Psychology from an international university. However, that comes with a lot of pros and cons to weigh before making a decision.
Financial feasibility and economic soundness is a crucial factor to consider. What bothers students is the question that will investing a fortune result in an equivalent output or return. And if one wants to grow in the field and help the field grow in India, it is only ideal they stay in India and make grassroot efforts to achieve the same.
These are all the conflicting thoughts in one's head!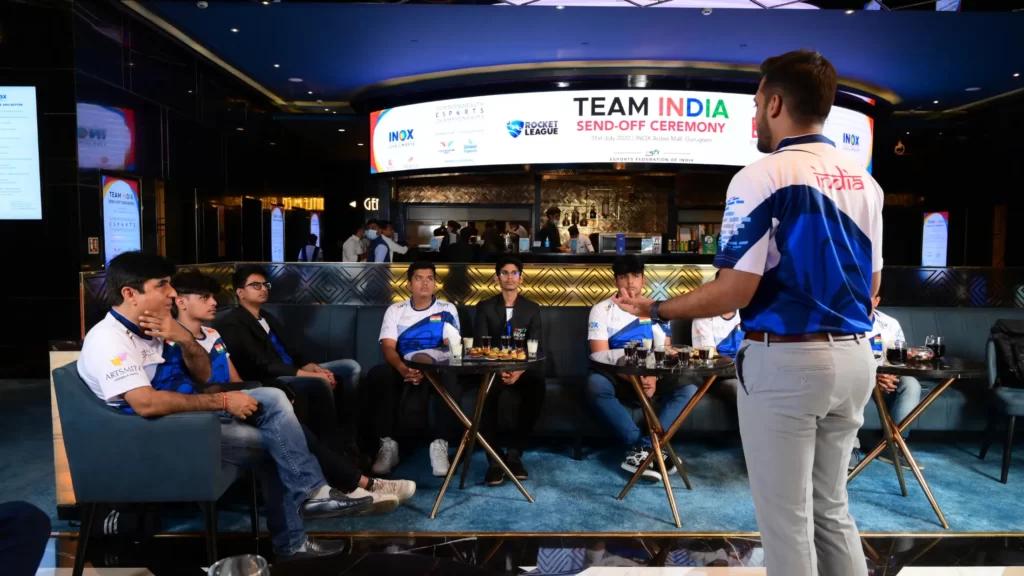 On-Going Solutions – "From one student to another" on Sports Psychology in India
Now, one might be visioning their future self as a Sport Psychologist practicing in India, only to be held back by questions like is there enough scope for it in India? Are there enough opportunities? What after doing a masters in Sport Psychology in India? How do I find the right exposure as a student? Well, these are all extremely valid questions in the light of lack of proper educational courses, small number of trained professionals and deep systemic gaps.
 Now, the need of the hour is to draw a close picture of the present-day scenario while tracing some future expectations from a student's perspective.
Accredited & Formalized Courses
The immediate need is to expand, establish and increase the number of educational institutions offering accredited, formalised and holistic courses on sports psychology with a revised and carefully planned curriculum involving sufficient practical and hands-on field experience. All journeys, results and outcomes only begin with the right education!
Talking of credible courses, one such course in MSc Sports and Exercise Psychology offered by the Centre for Sports Science (CSS) at Sri Ramachandra Institute of Higher Education and Research, Chennai is really something to look out for. CSS is a leading sports science centre in India and one of the only centres recognized by the Government of India and Sports Authority of India (SAI) that nurture graduates with skill sets to serve as high quality sports psychology professionals in the sports industry.
Two-way Learning Process OR Reciprocal Learning
Secondly, what could really aid the movement in India would be strengthening the base of sports psychology in India by carrying out grassroot level awareness campaigns with the help of Student volunteers who are especially passionate about the field and are planning to or pursuing a degree in the same. This will help students to have a relatively early exposure to the field than what is the case presently, where little to any exposure about Sports Psychology is mostly received during or post their under-graduation.
This will result in a two-way learning process or reciprocal learning. And if you are wondering what it could look like in reality, go check out Mandeha's exclusive Sports Psychology Courses that are personalized for best results, aims to create immense awareness and sensitization and are ideal for athletes, coaches, parents, fitness experts and anybody who is interested in sports psychology.
Where Growth Follows a Chain Reaction
Thirdly, students can feel the great need of weaving a stimulating network to reach out to when they feel stuck in their academic journeys to begin with. Everyone appreciates first-hand information and insight into people's own experiences. Thus, building more networking platforms for people at every stage in their professional and academic journeys to connect and interact – students, PHD Scholars, Researchers, Professors, Organizations and of course Sports Psychologists.
This will enable a wholesome community approach to spreading awareness and providing better clarity about aspects of Sports Psychology in India. The best part about this would be that these are based on people's own narrative experiences and journeys.
Working in Diverse Environment
Sports Psychologists should incorporate a diverse approach in their practice by working in collaboration and sync with other fields are professionals. This is because, Psychology as a field is inter-disciplinary and always encourages a collaborative approach with other fields. Thus, a sports psychologist could possibly collaborate with a rehabilitation psychologist, a physiotherapist, sports nutritionist etc. to apply holistic intervention strategies.
Athlete – Government Interactions on Sports Psychology in India
Prime Minister Narendra Modi recently met and interacted with the Commonwealth Games contingent. This has paved the way for encouraging such interactions in the future. PM Modi had a one-on-one interaction with the contingent that brought up many important points related to the role of sports psychology in having a competitive approach and reaching their optimal level of performance. Athletes gave their valuable inputs with a special emphasis on how "mental conditioning" helped them achieve their best performance in addition to physical training.
Prime Minister Narendra Modi mentioned that sports psychologists were sent along with the teams to provide them support. Recalling back, a team of sports scientists including sports psychologists had also accompanied the Indian contingent in the 14th Asian Games held in Busan in South Korea. However, this wasn't the case in the years that followed.
PM interacted with athletes on how this step proved beneficial for them. They mentioned how having the presence of a sports psychologist was irreplaceable as the on-field support provided by them during the matches really helped them stay focused and present, in developing strategies for the progressing rounds, and overcoming those rounds that were turbulent.
Conclusion: Sports Psychology in India
 "As a player, you know very well that along with physical strength in the field, mental strength also matters. It was your mental strength that helped you move ahead despite challenging situations."  

Mitesh Jain, Chief Sports Psychologist
Sports Psychology in India has been witnessing changing trends in the last couple of years. This could be owing to our athletes and teams surpassing themselves, breaking and creating records and performing tremendously at international events like Olympics, Commonwealth, Asian games, World Cups and so on. It definitely instills a sense of urgency to incorporate sports psychology as an integral part of their training, pre, post and during active competition. Having said this, Sports Psychology in India still has a long way to go. It has incredible and endless scope to grow and flourish as a field in a sport loving country like ours. 
---
---