At mandeha,
We help you build inner change.
Aim of mandeha is to explore the importance of reinventing experiences, lifestyle and particularly the potential of promoting well-being as part of change we seek. The goal is to partner with you to achieve transformation. Whether you are dealing with something specific or you are seeking increased satisfaction and balance in work-life, we are here to help. 
Furthermore, we see a shift in people's needs and desires, many are no longer interested only in going to a new place to just sit and relax. Many people look for something deeper, look for an experience they can connect with and that can enrich their lives. Thus, the unique services Mandeha provides to reinvent self is clear. We tailor our approach to your project for successful experience.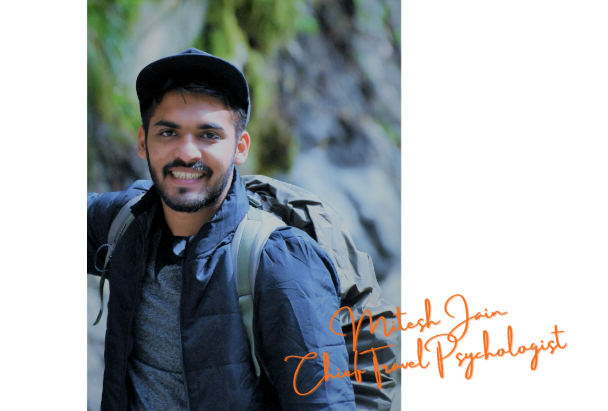 Mitesh Jain,
Founder & Chief Psychologist
Expertise in Sports, Esports and Travel Psychology.
Mandeha is the first company focusing on travel psychology based services. We help you achieve the perfect balance between mind and body through the power of psychology. The vision is to make travel a reality solution rather than escape for quality of life. 
Having merged with Rigpa Centre, Mandeha's 6+ years of expertise is evolved by the power of Sports Psychology as a positive well-being enhancement to sports academies and athletes. We bring a unique approach in Esports & Sport Psychology to help create, evolve, and effectively develop a winning culture and champion mindset.
We at Mandeha, being pioneers of Travel Psychology, the tourism industry are adapting to this on-going change that is having a major impact in the world, wellbeing and quality of life. In our 5+ years of considerable time as travel psychologists while working with international organizations developing the travel psychology industry and creating full-time career opportunities for upcoming enthusiasts.
Our merger partner Rigpa Centre have played major role in winning. Many more to win, Persistence & Patience is key!
Global Health and Pharma Award
Best Mental Health Service Provider 2020 & 2022
International Forum on Advancement and Healthcare
Top 100 Healthcare Leaders Award - Nominee 2019
The process of stimulating people to actions to accomplish the goals.
The ability to think about or plan the future with imagination or wisdom.
A plan of action designed to achieve a long-term or overall aim.
The ability of an individual to guide and influence members of the group
The improvement of one's status, knowledge, or character by one's own efforts.
The conscious knowledge of one's own character and feelings.
The feeling or belief that one can have faith in or rely on someone or something.
The skills that is necessary or desirable for full participation in everyday life.