WomenX | Journey to Self-Love
Open Dates: 18 to 19 March (weekend)
Open Dates: 2pm to 3pm March
Location: Brick & Bamboo, Karjat
Energy Exchange: Rs.4,770/- pp
Group Size: 10 Women (5 seats left)*
Special price for women in group.
WomanX is World's first and only travel psychology journey for "Women"
At Mandeha in WomenX, we believe that travel is a transformative experience, and we are committed to creating unique journeys that prioritize women and their needs. Our curated journeys are designed to help women develop a stronger mind-body connection, manage anxiety, and promote emotional well-being.
The WomanX journey is a transformative experience that encourages women to prioritize themselves and their needs. We believe that travel can be a powerful tool for personal growth, and our journey is designed to help women develop a deeper understanding of themselves and the world around them.
Our journey is an immersive experience that takes you on a path of self-discovery, growth, and empowerment. We have curated a unique itinerary that combines travel, wellness, and adventure, and is designed to help women connect with their inner selves, explore new cultures, and discover the beauty of the world.
WomenX Journey "Invite only"
On WomanX Journey we will be hosting 8 incredible women who are influencers and successful professionals in their respective fields. It will be a transformative experience for all of us, filled with adventure, self-discovery, and meaningful connections.
The invite-only journey (13-15 march) was curated to help these women develop a stronger mind-body connection, manage anxiety, and promote emotional well-being. Our itinerary included activities such as travel embodiment, movement therapy, me time acts, and healthy wellbeing, all aimed at helping the participants connect with their inner selves and find balance in their busy lives.
The journey was an opportunity for these successful women to take a break from their hectic schedules and prioritize themselves. We believe that taking time to care for yourself is essential to success and that personal growth and professional success go hand in hand.
We were honored to have these amazing women join us on the WomanX Journey, and we're grateful for the meaningful connections and lifelong memories we made together. We invite all women who are ready to prioritize themselves and their well-being to join us on this transformative journey of self-discovery and empowerment.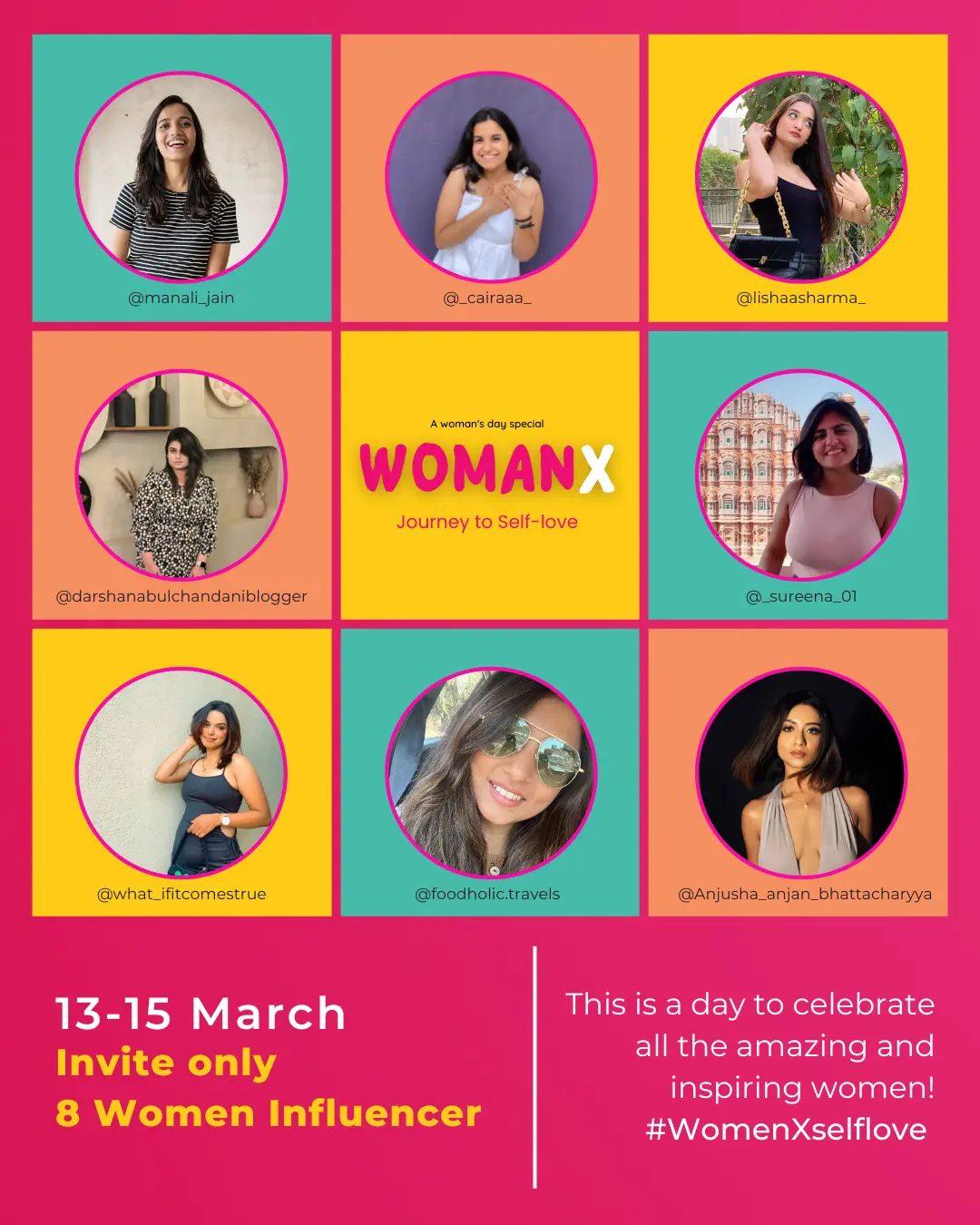 At WomanX, we believe that travel is not just about visiting new places, it is also about connecting with yourself and others. We have a holistic approach to travel, and we believe that physical, mental, and emotional well-being are all interconnected. That's why we have designed our journey to include activities that promote mental health and overall well-being.
We promise to create a safe and supportive environment where women can connect with themselves and others. Our journey is led by experienced and certified female guides who are passionate about helping women grow and thrive. We also promise to provide high-quality accommodation, transportation, and amenities to ensure that you have a comfortable and enjoyable journey.
Join us on the WomanX journey and prioritize yourself like never before!
Know your Psychology of Travel​
Developing skills & abilities with Activities
Travel Tangible
Personal Report
Reward as Personal Wellbeing
Personal and Professional Growth
(2 Day Journey) "18-19 March"
Introduction to get charged up to enhance your X with Fun Zoned Journey.
Curate your Self-X in program! From Me time to creating a story to remember via Activity of Travel Psychology.
Together we change in program! From jamming to transforming the X into inner change we seek.
You achieved your X. Closing Session & Checkout round up of acquired competences, feedback, and discussions.
WomanX - Mandeha Inclusions
Upon Successful Booking in the WomanX Journey you avail the most dreamt of trip for yourself and a life changing experience. Everything mentioned in inclusion is covered.
Frequently Asked Questions